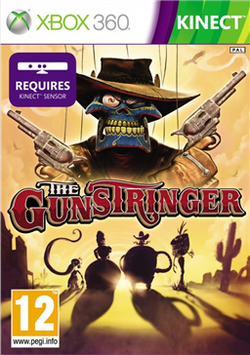 The Gunstringer is a game released for the Xbox 360 that requires the use of the
Kinect
. The Gunstringer was developed by Twisted Pixel Games and was published by Microsoft Studios. It was released on September 13, 2011 in North America and September 16, 2011 in Europe. It was originally planned as an Xbox Live Arcade release, but was later made a full retail game. The game is rated T for Teen and PEGI 12.
The Gunstringer uses the Kinect instead of a gamepad, so the controls are all movement based. One hand acts as if it is controlling a marionette, and the other acts as if it is holding a gun. There are also segments that are similar to rail-shooters where both hands control guns and the character moves on a pre-determined path.
The game revolves around a theatrical play being put on that is set in the Old West. The main character is an undead Sheriff who is trying to get revenge on his posse for betraying him.