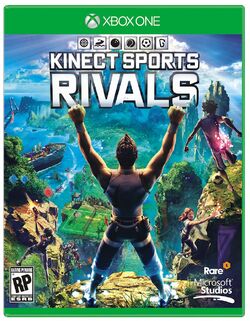 Kinect Sports Rivals is the next generation of the best-selling Kinect franchise, Kinect Sports, that brings your favorite sports back in re-imagined ways, and delivers new sports and events made possible only with Xbox One's revolutionary technology. Kinect Sports Rivals puts you in the game like never before, tracks your movements and expressions with incredible accuracy, and offers never-ending competition with your friends and rivals.
The all-new Kinect instantly scans and creates a stylized, digital champion you, then drops your champion seamlessly into the ever-evolving world. Compete in a world full of competitors on one of three global teams, each with its own philosophy and playing style.
Features
Edit
Puts you in the game by scanning and stylizing an on-screen version of you that looks like you, learns to act like you, and competes like you against your friends, even when you're not around, using Xbox One Living Games technology.
The all-new Kinect sensor for Xbox One offers three times more fidelity and 10 times more power than its predecessor. The new Kinect fidelity and precise tracking of not only limbs, but fingers and hands, creates the most nuanced and responsive gameplay ever. You can play a variety of ways including full body, partial body and seated experiences.
Social matchmaking pits you against other champions within your social sphere and/or skill level. Matchmaking prompts you to compete with champions of matched or slightly higher skill level to ensure you continue to advance in the game. The game learns how you and your friends compete, creating an ever-evolving network of rivals in the cloud so there is always someone "real" to compete with, not an artificial AI character.
Brings favorite sports back in re-imagined ways, and delivers new sports. Sports include soccer, climbing, wake race, target shooting, tennis and bowling.
Progressively master sporting events by levelling up, gaining fame and unlocking rewards.
Ad blocker interference detected!
Wikia is a free-to-use site that makes money from advertising. We have a modified experience for viewers using ad blockers

Wikia is not accessible if you've made further modifications. Remove the custom ad blocker rule(s) and the page will load as expected.