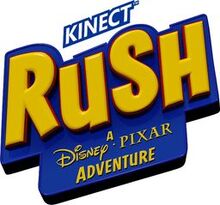 Kinect Rush: A Disney/Pixar Adventure is a game made by Microsoft Studios and Disney/Pixar.[1] It lets players jump into the world of Toy Story, The Incredibles, Cars, Ratatouille, and Up.
Gameplay
Edit
The player creates an avatar of themselves by using the Kinect sensor to scan themselves and choose options such as glasses, shape of hair and eye color. In each world, your avatar is changed into a different thing: A superhero in The Incredibles, a rat in Ratatouille, an explorer in Up, a toy robot in Toy Story, and a car in Cars. The player also tries to collect coins and a best time to get points to unlock extras in the levels such as a new buddy, new goals, new special abilities and bonus concept art.
Throughout the levels, the player uncovers secret areas that may require special abilities and buddies. In these secret areas, the player finds a Buddy Coin. When all 4 Buddy Coins are collected in a level, the player gets to play as one of the characters in that level.
Depending on how many points the player gets in a level, a medal is awarded, either a Bronze, a Sliver, a Gold (7000 points or more), or a Platinum (8000 points or more).
Characters
Edit
The Incredibles Edit
Ratatouille Edit
Ad blocker interference detected!
Wikia is a free-to-use site that makes money from advertising. We have a modified experience for viewers using ad blockers

Wikia is not accessible if you've made further modifications. Remove the custom ad blocker rule(s) and the page will load as expected.