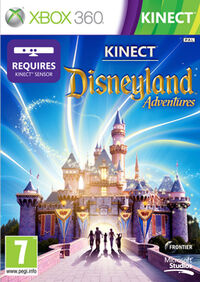 Kinect Disneyland Adventures is a Disneyland based game, planned for release on the Microsoft XBox 360 and its Kinect peripheral. It is set in a virtual recreation of the Disneyland Park, featuring mini-games inspired by various attractions, with Peter Pan's Flight and Alice in Wonderland being shown in detail at Microsoft's E3 2011 presentation. In addition, brief clips of the Matterhorn Bobsleds, Pirates of the Caribbean and Big Thunder Mountain Railroad were also shown.
The Attractions Rides
Edit
Alice in Wonderland
Big Thunder Mountain Railroad
Buzz Lightyear Astor Blasters
Haunted Mansion
It's a Small World
Jungle Cruise
Matterhorn Bobsleds
Peter Pan's Flight
Pirates of the Caribbean
Space Mountain
Splash Mountain
The Many Adventures of Winnie the Pooh
Disney Classic Characters
Edit
Mickey Mouse
Minnie Mouse
Donald Duck
Daisy Duck
Goofy
Pluto
Chip and Dale
Snow White
Pinocchio
Br'er Rabbit
Br'er Fox
Br'er Bear
Cinderella
Alice
White Rabbit
Mad Hatter
March Hare
Cheshire Cat
The Queen of Hearts
Peter Pan
Tinker Bell
Captain Hook
Mr. Smee
Aurora
Mowgli
Baloo
Winnie the Pooh
Piglet
Tigger
Roo
Eeyore
Ariel
Belle
Beast
Aladdin
Jasmine
Genie
Stitch
Tiana
Naveen
Black Barty
Madame Leota
Constance Hatchaway
Ezra the Skeleton
Phineas the Traveler
Gus the Prisoner
The Singing Busts
Disney Pixar Characters
Edit
Woody
Buzz Lightyear
Jessie
Little Green Men
Stinky Pete
Ad blocker interference detected!
Wikia is a free-to-use site that makes money from advertising. We have a modified experience for viewers using ad blockers

Wikia is not accessible if you've made further modifications. Remove the custom ad blocker rule(s) and the page will load as expected.