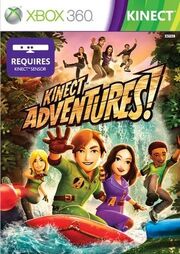 Kinect Adventures is the stock standard game that comes with all Kinect sensors.
It features 5 activities: Rallyball, River Rush, Reflex Ridge, Space Pop and 20,000 leaks. There is also adventures, Free play, Timed Play and Online Play.
It has a total of 32 achievements and 10 awardables. (5 male, 5 Female)
You can get living statues, where you can control stuff like hamsters.
Ad blocker interference detected!
Wikia is a free-to-use site that makes money from advertising. We have a modified experience for viewers using ad blockers

Wikia is not accessible if you've made further modifications. Remove the custom ad blocker rule(s) and the page will load as expected.