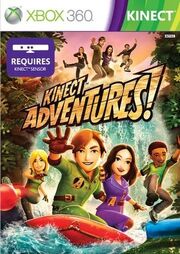 Kinect Adventures is the stock standard game that comes with all Kinect sensors.
It features 5 activities: Rallyball, River Rush, Reflex Ridge, Space Pop and 20,000 leaks. There is also adventures, Free play, Timed Play and Online Play.
It has a total of 32 achievements and 10 awardables. (5 male, 5 Female)
You can get living statues, where you can control stuff like hamsters.